Sims Next Top Model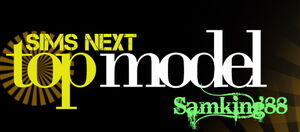 Format: Sims Online Reality Series
Produced by:Samking88
Created by: Samking88
Judges: :
Tyra Banks
Nigel Barker
Sammy Queen
Milton Davidson
J.Alexander
Production
Episodes: Weekly
Length 15-20 minutes (depends on each episode)
Broadcast
Website for streaming: YouTube 2008-present
Original run: -present
External Links
Episode Streaming Website
Model Portfolios
Purpose
Prizes
Cycles
Cycle
Premiere date
Winner
Runner-up
Contestants
Number of contestants
International destination
1
May 8th 2008
Merlinrose Henderson
Tauryn 

Brittany,Mickie,Rachel,Merlinrose,Sarah,Tauryn,Ashley, Eva,Gwen,Jadez,Jessica,Keisha,Sebrina,Trish,Yeda

10
Sydney
2
October 26th 2008
Mileena Tisdale
Samantha Derby  
Felicia Ross, Delia Marchetta, Serina Novak, Audrey Colton, Ronet Blake, Moira Icera, Krissy Martin, Elyse Jolinska, Ceara Blake, Jeylense Smith, Ana Brie Power, Catherine Sherman, Samantha Derby, Mileena Tisdale  
14
Paris
3
May 15th 2009
Emi Ichiro
Kimberly Sdwandi

Al-Rain Akina, Ariel Marin, Emi Ichiro, Erin Healther , Ida Blackburn, Ivane Wilkens, Kimeberly Sdwandi, Leatriz Gellar, Lorelle Anderson, Meeghan Chestfield, Shaniqua Shiner, Sydney Bradfield, Tisha Jackson  

13
Rome
4
March 16th 2010
TBA
TBA

Eliminated- Anna Bella Rodriguez, Savitri Bindra, Veronica Moss, Sharon Flavis, Gwendalyn Wishart,

Still In The Running- Kelizanne Royaz, Viktorya Stivarov, Ada Lefflet, Skylar Markson, Kula Armoera, Annelyse Stostur, Chantal Griffin, Rhea Andrews, Natasha Loxely

14
TBA
Ad blocker interference detected!
Wikia is a free-to-use site that makes money from advertising. We have a modified experience for viewers using ad blockers

Wikia is not accessible if you've made further modifications. Remove the custom ad blocker rule(s) and the page will load as expected.