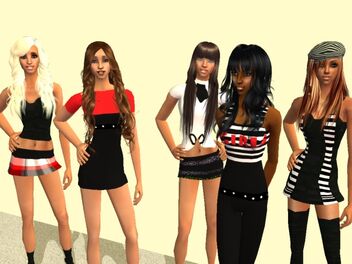 == Simlicious== Simlicious (Also know as SimliciousTheBand) is a Sim Girl Group created by Robin Simton. They were formed on a Sims 2 Reality series, "The Search For Simlicious". They were originally signed to SimTime records and composed of members, Emma Tess, Jasmine Lopez, Beth Rivera, Cassandra Anderson and Victoria Holeman. There self titled album was relased April 11, 2011. After Anderson left the group in 2012, Simlicious signed with Sim Universe and released their second studio album, "Rebuilt", in September 2012. Rivera left the group in January of 2013, stating major differences in the group, also she never felt right for what happened to Anderson. Lopez and Holeman annouced their departure from the group in May 2013, leaving Tess the only remaining member.
History
2009 - 2011: Formation and Simlicious
By the time the show aired, the girls for Simlicious were already chosen and were working on there first album. Originally, the group was set to consist of four girls, but was concived of five girls through a final decision of the groups creator Robin Simton on the shows Season Finale. Thus they had massive success in Pleasantview, Strangetown, and Belladonna cove reciving a platnuim record in each city. There debut single "Like Me" flew to number one!
2011 - 2012: Second line-up and Rebuilt
It was confirmed on August 19th, 2012 , via Cassandra Anderson's youtube video on the
SimliciousTheBand youtube channel
that she was no longer a member of Simlicious. In the video, Anderson cites diffrences with the new record label and sound, stating "Robin Simton and the label were looking for a 'new direction' for the group." ... "They were looking for the group to not be [urban] any longer." She also speaks of personal issues with some of the other girls, not seeing eye-to-eye on alot of things. The same day at the MuchMusic Video awards Simlicious won award for most watched video on there website. They also explained after the awards in
a quick interview
that Cassandra was no longer in the group.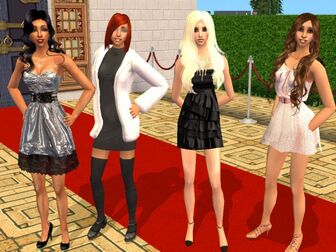 Currently, they are working on there second studio album. They have signed a deal with the new record label. The sound for the second album will have more of a 'Pop' vibe to it. In 2012, the group went into the studio to start recording music for their second studio. The group's first single titled "Maniac" was released to Sims iTunes on September 2nd, 2012. The music video was shot on August 25th in LA at an abandoned hospital. It peaked as number 2 on the Sims Hot 100 chart. The girls were featured on the Jersey Shore Soundtrack, with a song titled "Drank". It was then released on October 20th to digital retailers in Canada and the United States as a promotional single for Rebuilt. The promotional single featured guest rapper Spose. On November 30, 2012 the girls released their third single titled "2 In the Morning". It made a Hot Shot Debut on the Canada Hot 100 reaching number 6. The song then moved up five places to number 2 in the week of December 16. Their second album, Rebuilt, was released on September 16 in Canada and the United States reaching number five on the pop album chart.
2013 - Present: 
On January 5th, 2013 Beth Rivera annouced she had left the group via youtube video . She stated in the video that she wanted to leave ever since former member Cassandra Anderson was "removed" from the group. She also stated that the group was never the same since she was gone, saying they never laughed as much and it felt like everyone was in a "mood" all the time. The group's fourth single titled "Over You", was released to Canadian iTunes on January 9th, 2013. The song peaked at number 7 on The Hits Charts (Airplay): Top 100 Singles and number 5 on Canadian Hot 100. On May 8th, 2013 the group confirmed the exit of Holeman and Lopez via their Facebook and Twitter accounts, also on the official website. It was stated that Tess was still part of the group and was very ready to get on with the future of Simlicious.
Time line
Members
2009
2010
2011
2012
2013
Emma Tess
(2009-present)
Cassandra Anderson
(2009–2012)
Beth Rivera
(2009-2013)
Victoria Holeman
(2009–2013)
Jamin Lopez
(2009-2013)
Note: those in bold are current members.
Members
Emma Marie Tess
( Born August 17th, 1989 ) is from Huston, Texas, where she has been singing since the age of 4. She was offered a chance to start recording her very first demo at the age of 14. In 2007, Emma recorded over 50 songs in the hopes of releasing her own album. Aside from singing, she is also a trained ballet dancer and teacher for over ten years. She won her position in the group in the season finale along with former member Cassandra Anderson, and current members, Jasmin Lopez, Beth Rivera and Victoria Holeman. In May 2013, after former members Jamin and Victoria left, she annouced she is still part of the group, and ready to get on with the future of Simlicious.
Past Members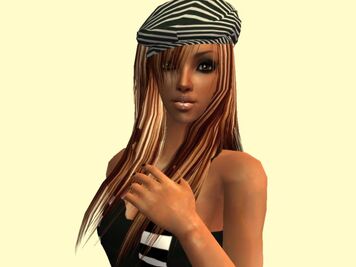 Victoria Lauren Sakamoto Holeman ( Born August 14th, 1987 ) is from San Diego, California, were she grew up as a tomboy and struggled to be accepted by her classmates. She is of African American, Irish, Native American, and Japanese descent. After winning her spot in the group she joined other members Cassandra Anderson, Jasmin Lopez, Beth Rivera and Emma Tess to form Simlicious. After recording two albums with the group she announced her departure in early May 2013. She is close friends with former member Jamin Lopez.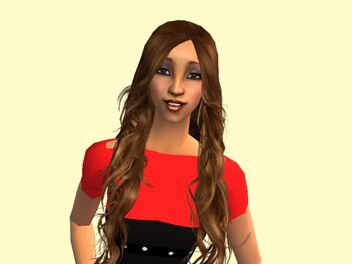 Jasmin Nicole Lopez ( Born May 7th, 1988 ) is from Diamond Bar, California. Lopez is of Mexican and Cuban descent. She attended Diamond Ranch High School and was a graduate for the Class of 2006. She studied dancing from the age of nine at the Millennium Dance Complex. She won her position in the group in the season finale along with Cassandra Anderson, Beth Rivera, Victoria Holeman and Emma Tess. Before Simlicious, she was a member of two musical groups - Cherri, of which she was a member from 2001 until 2003 and then Breathe, which formed in 2005 and disbanded in 2007. Breathe was an opening act for Sean Paul. In 2011, Lopez was arrested in Glendale, CA on March 10 after cops found more than a dozen bags of cocaine in her purse during a traffic stop. The charge was later wiped from her record after she stayed on the right side of the law for 18 months. After two albums with the group she announced her departure along with Holeman in May 2013.
Bethany Anne Rivera
 ( Born July 19, 1988 ) is a singer and dancer who won her position in Simlicious
along with Cassandra Anderson, Emma Tess, Jasmin Lopez and Victoria Holeman. Beth was known as the more "Outrageous" one, wearing crazy stage costumes, bright glittery bold makeup, and later having bright red hair. On January 5th, 2013 Beth annouced via youtube she had left Simlicious. In the video she stated she had actually wanted to leave the day that Cassandra was "Removed" from the group but Cassandra had told her to stay. She also stated that the group was never the same, and it felt like they were more like co-workers rather then friends.
Cassandra Adair Anderson ( Born August 15th, 1988 ) is from Los Angeles, California, is a singer and dancer. During her time on the reality show her and Tess were the only two contestants to have never made it into the bottom two. Robin Antin called out Anderson, during the finale, becoming a group member of Simlicious, along with Emma Tess, Beth Rivera, Jasmin Lopez, and Victoria Holeman. On August 19, 2012, via a YouTube video, Anderson revealed that she was no longer a member of Simlicious. In the video, Anderson cited changes with their new record label and sound.
Discography
Simlicious (2011)
Rebuilt (2012)
Merchandise
There are Simlicious clothing lines, toys and a video game for the Nintendo DS.
Toy Instruments have been produced for childrens market.
A black and red HD Polaroid camera was produced and released and packaged in a box with Simlicious pictures on it. It was called the 'Licious cam!'
In July of 2011, a line of 11.5 inch fashion dolls were released. They were made by BJ Entertainment .
To see more of the dolls and toys see the official website!
There are only two dolls of Cassandra Anderson made ( Simlicious Dolls wave 1, and Simlicious dolls wave 2) After she was removed from the group, BJ made continued the dolls with the four remaning members.
They released several lines of the dolls:
"Simlicious Dolls, Wave 1" - July 2011
"Simlicious Dolls, Wave 2" - July 2011
"Simlicious Dolls Fashion Pack!" - August 2012
"Simlicious Dolls, Wave 3 (4 dolls in one box)" - August 2012
"Simlicious Dolls, 'Baby Doll' Collection - August 2012
"Simlicious Dolls, Tour Bus!" (Playset) - August 2012
"Simlicious Dolls Fashion Pack #2! - September 2012
"Simlicious Dolls, 'Licious Styles!" - September 2012
"Simlicious Dolls, 'Maniac' Collection - Prototypes shown, dolls were unreleased
The 'Maniac' collection were a set of Simlicious dolls that were planned to be released in 2013 as the first of the "Collectors series" but were dropped once the future of the band became uncertain. Also planned were dolls that would appear in there music video fashions. Also annouced for 2013 were another set of doll fashions, but those were never released aswell.
Miscellaneous
In 2011, the girls wrote a book about the lives on the show. They talked about the drama, and the stress of learning dance routines in a week aswell as learning songs. They also gave tips and tricks on how to dance and sing. Also in the book were some exclusive pictures they took of themselves.
The released three diffrent DVD's of there tour stops. The first one was "Live at the playboy mansion", second one was "Live in Ohio", and the last was "Live in Hollywood!".
Tours
2011 - 2012: The Simlicious Tour!
Ad blocker interference detected!
Wikia is a free-to-use site that makes money from advertising. We have a modified experience for viewers using ad blockers

Wikia is not accessible if you've made further modifications. Remove the custom ad blocker rule(s) and the page will load as expected.