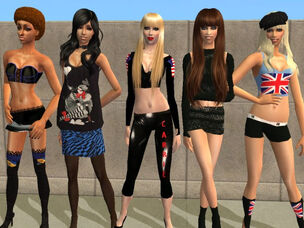 The Paradiso Sims were a girl group and the brainchild of Jimmy Iovine, an attempt to create a European spin–off of Iovine's other girl group The Pussycat Dolls. The members come from a number of countries : Sarah Kendell and Carrie Winston from the United States, Anna Bennett and Sasha Beckett from the United Kingdom and Britney Amor from the Philippines. They were signed to Simscope records. Their debut single "Patron Tequila" featuring Lil' Jon and Eve was released on January 4th, 2013 and reached position 3 on the Billboard Hot Dance Club Play.
History
2011 - 2012: Formation
Jimmy Iovine, owner of Simscope Records, decided to create a new girl group after meeting contestant from The Pussycat Dolls Present: Simlicious Carrie Winston. Together with Robin Simton, Martin Kierszenbaum and will.i.am, he auditioned over 500 girls in London, some of which had been noticed during X-Factor auditions, casting six of them including singer Anna Bennett, rapper/singer Britney Amor (Also from The Pussycat Dolls Present: Simlicious). as well as Singer/Dancer Sasha Beckett. Each girl represents a different country and the group has no lead singer, unlike the Pussycat Dolls. The group, cut down to a quartet was then featured in a remix of "I Got It from My Mama" by will.i.am. However, following her appearance on Simton's Pussycat Dolls Present: The Search For The Next Doll, Simton decided she wanted to bring Sarah Kendell to the lineup, as seen on rehearsals videos. 
2013 - Present:
After two years of production, the group finally released its first official single, "Patron Tequila" featuring Eve and Lil' Jon on iTunes on January 4th, 2013. The song was intended as the lead single from their to-be debut album entitled Crazy Horse. On May 23th, 2013, the group released their second single entitled, "Who's My Bitch" (Stylized on the single cover as "Who's My B**ch").
Discography
Singles
2013 - "Patron Tequila" (featuring Lil Jon and Eve)
2013 - "Who's My Bitch"
Ad blocker interference detected!
Wikia is a free-to-use site that makes money from advertising. We have a modified experience for viewers using ad blockers

Wikia is not accessible if you've made further modifications. Remove the custom ad blocker rule(s) and the page will load as expected.