Neve Siddle

Neve Siddle

Gender

Female

Age

Young Adult/Adult/Elder

Occupation

Journalist

Alias

Neve Lord-Chalk (maiden name)
Neve Siddle (married name)

Parents

Gregg Chalk (adoptive father; deceased)
Maxwell Lord (adoptive father; deceased)
Darla Arbor (mother)
Oliver Sure (step-father)

Spouse(s)

Alton Siddle (husband)

Romances

Henri Deux (ex-boyfriend)

Children

Roeper Siddle (son)
Maxine Siddle (daughter)

Relatives

Bernard Chalk (grand-father; deceased)
Reno Chalk (grand-mother; deceased)
Gertrude Lord (grand-mother; deceased)
Ron Chalk (uncle)
Maci Lord-Weller (aunt)
Carlton Chalk (cousin)
Cari Chalk (cousin)
Cain Chalk (cousin)
Derek Siddle (father-in-law; deceased)
Esther Charles-Siddle (mother-in-law; deceased)
Marlo Siddle (sister-in-law)
Iris Rebuff (daughter-in-law)
Walden Lillian (son-in-law)
Adele Siddle (grand-daughter)
Rutger Siddle (grand-son)
Leland Lillian (grand-son)
Biography
Neve Siddle (nee Lord-Chalk) is a sim in the town of Ribbon Heights. She is the adoptive daughter of Gregg Chalk and Maxwell Lord, a gay couple. Her biological mother is Darla Arbor. She is a recurring character in the original series.
In the fourth set, Neve is adopted by Gregg and Max after much debate and the two embrace their newborn daughter and become a family. In the fifth set, 5 years later, Gregg and Max are still togethe and raising Neve. However, they go through a rift in their marriage and separate constantly fighting over Neve. However, they reconcile. In the sixth set, Neve's biological mother, Darla Arbor, come to town and declares she get Neve back. She goes to extremes such as kidnapping Neve. She is none the less returned to Gregg and Max. In the seventh set, Gregg and Max decide that Neve does need a mothe rin her life and grant Darla part custody and allow her to visit. However, When Darla begins coming over too often they tell her to back off. She then demands she get to see Neve alone. They allow her and Neve tobe together as long as Ivan, her then boyfriend, is present. When Darla and Ivan break up Darla leaves town promising to visit. She isn't seen after this. In the eight set, Neve is just a kid dealing with school. She learns she has an uncle, Ron. However it is revealed that Ron is evil. When the truth comes out, he ignites their backyard trapping them all inside. In the ninth set, 2 years later, it is revealed that Neve survived the blaze, but her grand-parents Reno and Bernard and Cam did not. As a result Ron was taken away and Gregg and Max took in Neve;s cousins Carlton, Cari and Cain. Gregg and Max then hire a nanny, Roberta, to deal with all the kids, which Neve rejects. Ron later escapes and kidnaps the kids yet again but they are later retrieved and returned safely.In the tenth set, Neve is now a young adult. It is revealed she and Alton had a physical relationship, she then becomes pregnant. Derek, Wendy, Max and Gregg all think they will marry. However, Alton and Neve do not marry as they are not in love. they decide to keep the child and raise it separately.
In 2.0, 10 years later, Neve is now an adult and a regular. She and Alton had a son named Roeper.
Set2 1 & 2
In the first set, it is revealed that Neve and Alton had a son, Roeper. Neve has begun seeing Henri Deux, much to Alton's jealousy. Henri later proposes to Neve, she rejcts claiming it to be too soon, but they continue dating. She is still secretly still in love with Alton and becomes jealous and upset when he begins dating Adia Faison. She doesn't like that Adia also gets along with Roeper. Henri then tells her he would lie for them to have a baby. She allows it but faisl to get pregnant. Eventually she and Henri have a huge argument where she admits her love for Alton to him and they break-up. She pleads for him not to tell Alton and he agrees. She and her father Gregg Chalk also have a falling out as he begins a relationship with an old flame, Oliver. She claims that he is betraying a now dead Max. Gregg and Oliver later marry to Neve's disgust. She later comes around.
In the second set, Neve is now lonely and miserable and the sight of Alton and Adia so happy and in love sickens her. She schemes to break them up but fails miserabley. However, when Derek Siddle, Alton's father, dies Alton becomes vulnerable and Neve acts. When he leaves town to meet his distant uncle she runs after him... as does Adia. Upon their return she and Adia fight and force Alton to choose. He picks Neve as she is Roeper's mother and Adia dumps him. Neve then realizes that Alton does love Adia and allows him to resume dating her. She begins dating someone herself but the relationshop fizzles out.
Sets 3 & 4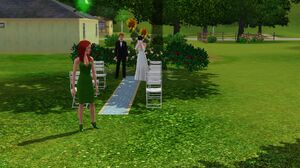 In the third set, Neve and Alton begins spending alot more time together as Adia dumps him upon discovering that Gladys Telfair is her mother. Along with Roeper they become a family and Neve admits her feelings to Alton who instantly reciprocates. He tells her he needs time though as he and Adia just broke up. He quickly recovers when he spots Adia with Harlon. They then move in together. Neve apologizes for wasting so much time earlier and rejecting his proposal years ago. Alton then drops to his knee and asks again, this time she happily accepts. They then have an engagement party, but Adia is not invited. When she crashes and makes a scene Neve tries to reconcile with her, to no avail.
In the fourth set, 2 weeks later, Neve is still missing after Adia's scene at the wedding. She later returns and Alton immediatley tells her that everythin Adia said was a lie. Neve believes Alton but tells him that she needs some time to clear her head and sort things out. Alton agrees to this and Neve entually comes around and the two reconcile. Adia tries to make ammends with Neve, only to have Neve shit her out. Later after a talking to from Alton, Neve and Adia reach some common ground and become friends. Alton and Neve then struggle with the aspect of whether or not they should become re-engaged. Alton re-proposes and Neve agrees, but this time with a small ceremony: Parents and Siblings only. When Adia becomes pregnant, Neve assumes Alton is the father and lying, but Adia informs her that Harlon DuBois is in fact the father. On the night of Gladys's tragic dinner party Neve and Alton marry.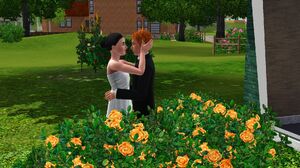 Sets 5 & 6
In the fifth set, Neve and Alton announce their marriage following Gladys's funeral and they throw a party for their wedding and Adia giving birth to her daughter, Georgia. A scene ensues between Adia and Henri, leading to Adia leaving Ribbon Heights. Neve thinks it might be because of her, but realizes that she and adia were friends. Neve then discovers that she is pregnant a second time. She goes through typical pregnant behavior and begins to notice Roeper's sudden change in behavior. She thinks he is jealous of having another child around. However, it is discovered that Roeper was actually dating Tabitha Urschel, who though not blood related, is his second cousin. She and Alton, along with Rupert and Marnie, force the duo to break up. Roeper is angry but later realizes that his parents were right. At Regan and Gal's wedding she goes into labor and gives birth to a daughter, Maxine, who she and Alton name after her later father Maxwell Lord. Then she recieves word that her other father Gregg Chalk has died and she and Alton must now care for her teenage cousin, Cain. Oliver, her step-father, tells Neve he loved Gregg very much but is now moving back with his sister out of town and gives her and Alton their house, with room for their big family.
In the sixth set, Neve and Alton seemingly become a happy family with their two children. This is also when Charis Onassiser becomes involved with another wealty man, Chip Hallworthy. Though Charis's interst in him appear to be love, Alton suspects otherwise and begins investigating... to insure Charis's safety. Though she hopes no harm comes to Charis, Neve begins to develop jealous feelings as Alton begins to get deeper and deeper into Chip's past. Finally she confronts her husband and demands that he stop what he is doing, she is his wife now and Charis is his ex-wife. Alton agrees to Neve's terms but after a short while he begins to investigate farther, this time behind Neve's back. Alton finally discovers Chip dark secret and is able to save Charis from him but Neve learns of his involvement and, when he returns home from saving Charis he finds that Neve has taken their children and left.
Set 7
In the seventh set, Alton and Neve are separated and begin to bicker constantly. Finally they both come to their sense and reconcile. Then, after seeing how hurt Charis was by Chip's betrayal, she and Alton set out to help Charis who has now transformed from the manipulative money hungry gold digger to a person who now just longs for love. Their secret plan is kept a major secret until the series finale, where Alton and Neve reunite Charis with her long estranged daughter, Athina and the only husband that truly loved her back, Rudy Saunter. She annd Alton are last seen as Elders dancing at Charis and Rudy's wedding.
25 Years Later
25 years later, Neve and Alto have 3 grand-children. 2 by Roeper and his wife, Iris Rebuff. They are named Adele and Rutger and they have one by Maxine and her husband, Walden Lillian who is named Leland.
Ad blocker interference detected!
Wikia is a free-to-use site that makes money from advertising. We have a modified experience for viewers using ad blockers

Wikia is not accessible if you've made further modifications. Remove the custom ad blocker rule(s) and the page will load as expected.