</noinclude>
Brittany Larisa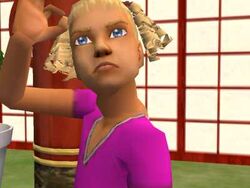 Hi! My name is Brittany Larisa!
Name: Brittany Larisa
Gender: Female
---
Family
Parents: Angelo Larisa, Tajiz Larisa
Siblings: Ta-lej Larisa, Amelia Larisa

The Sims 3

Life stage: Teenager
Traits: Unknown
Favorites: Metal, Lamb, Black
---
Neighborhood: Titanaville

Brittany Larisa is the younger daughter of Angelo and Tajiz Larisa and the sister of Ta-lej. She was adopted as a toddler shortly before Ta-lej became a child. The two girls are best friends and are also friends with Fiona Ismay. Like her older sister, Brittany is gothic.
Ad blocker interference detected!
Wikia is a free-to-use site that makes money from advertising. We have a modified experience for viewers using ad blockers

Wikia is not accessible if you've made further modifications. Remove the custom ad blocker rule(s) and the page will load as expected.